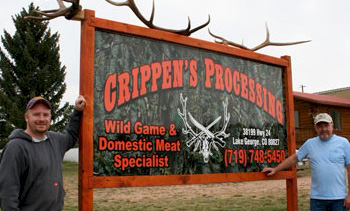 We want you to enjoy wild game! Proper processing helps to guarantee you the very best quality of meat to honor your hunt, and the animals you hunted. Proper cleaning, aging, trimming, cutting, wrapping, and storage are all important parts of preparing your meat. Not all meat processors take the same precautions, which is why we trust Crippen's Processing to carefully prepare your meat and ensure you take home the finest custom cuts, fresh & smoked sausage, snack sticks, jerky, and more.
Crippen's Processing offers professional meat processing you can count on to be perfect every time. They treat every animal individually to get you the very best from your harvest.  Along with taking the time to carefully remove spoiled or questionable meat, they hand inspect every piece for wrapping.
Troy and Bill Crippen have over 55 years of meat preparation and cutting experience, and they understand what it takes to properly deliver wild game from the field to your plate.
Visit the Crippen's Processing Website for more!